History
Dawn Hancock has been holding a Community Pipe Ceremony and invited me at the request of the spirits, to do a Grandmother's Ceremony. Since I just had a birthday, I thanked the Universe for this opportunity to do something special for it. A personal ceremony with Dawn seemed perfect.. During the Ceremony, we were visited by 7 Grandmothers from the mountains that came, circled the fire, and left. Neither of us got who they were, or just exactly what they wanted.
I had planned to do something special with the Earth Healers on 8-8-08 because of the numerological power numbers. Originally I had planned to do something at Cascade at the earth's 4th chakra, however a call from Isabelle had the potential to change that. She said that Crystal Mountain might be an option and that I should consider it for a ceremony at some time. That was the message that Isabelle received.
So on July 18, 2008 Rob took me up to Burgdorf, so that we could visit the mountain with the intention of speaking to the spirits there to see just what was wanted done. I had never heard of this mountain, and I knew nothing about it.
I was suppose to meet Alana there at 3, but Rob thought we ought to go up that next morning. We wound around the hillside to the top of the mountain. It was evident that it was being crushed up for landscape rock. We walked around it looking at this huge outcropping at the top of this mountain that was different forms of crystal, quartz, centrite, malachite, and some amethyst. Here and there were the dynamite holes, and it looked like fissures had been blasted into the mountain so that parts of it now felt unstable.
Around the front was a large flat area. I met Janet and Jane there. Jane told me the history of the mountain. How it was being mined illegally. Its owner lived in California, but just recently leased it to a man and she had the phone number. We talked on about the mountain, how it had been a sacred spot for four Indian Nations, and the Nez Perce still came there. I said I would need to get Nez Perce permission and I would like their help with the ceremony. She gave me the name and phone number of a Nez Perce Shaman who could help me. Wow, in the first 15 minutes, I had key elements to my situation.
Rob and I went back up at 3. No Alana… I went to the large flat platform and I set up a sacred circle and did my own thing. As it was my intent to talk to the mountain, I sat facing the wall of crystal rock. The July sun was beating down on the white rock pieces. The thought "sacred ground, feel it with your beingness, take off your shoes" passed through my mind. I unbuckled my sandals and stood barefoot upon the surface but in the basing afternoon sun, it was cool.
As I talked to the mountain she showed me that she was a crystal shaft deep into the earth. Down there was a crystalline grid that connected her to other mountains, but it was disconnected because of all the pain, and destruction that had shook her to her very foundations. As I gazed at the face of the mountain, the shadows from the late afternoon created shadows and I saw the face of an Indian woman with very droopy eagle feathers attached to the top of her head. She was worn, ancient and one eye was shut, her mouth twisted in agony. At a different time of the day, the shadows would play across her face, and she would appear to be very open mouthed, screaming.
<![if !vml]>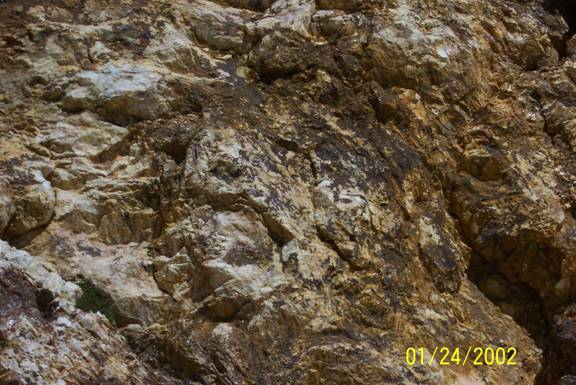 <![endif]>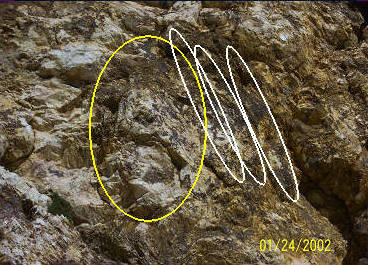 She said her name was Onee-nahtse-qowa. No idea what that might mean. She said that when we were to finish the ceremony that she would become known as a mountain of Peace, When people came to take the fragments of the mountain that they would take home a crystal radiating Peace and Love. She also wanted a sign posted to say that she belonged to the Indian Nations, and that she was sacred, asking people to imagine they were at church and to treat her with that kind of reverence. She asked specifically that no motorized vehicles be allowed on her platform.
I had made contact but she had been 'talking to me" for a while already and I knew that it would continue. In fact, I decided to write it down because I was getting so much that I was afraid, I would forget.
I left the sacred circle and began looking for the something that she had for me as a gift. Many beautiful pieces of stone caught my attention and I looked at them but just patted them lovingly and left them lay. I was looking for a stone of good size but I was not to choose them until after the ceremony 8-8-8. okay,, then I saw some pink pieces. They were small but as I looked I saw a much larger stone and I picked it up. This was a piece of her heart, and I was to take it so that I would be connected to her. Wow. I showed it to Rob and told him what she said.
We went back down the mountain. I was still getting info from Onee-nahtse-gowa. Rob and I went swimming at Burgdorf then back to camp at Jeanette's camp site for some supper. We were sitting around the campfire about ready to take a walk when a car arrived with Alana. She had brought Christine and Bridgett with her.
We sat around talking and laughing until 1 AM. Alana and Rob til 3. Needless to say the next morning, I was the only one up. I took 3 walks before anyone else stirred, and then they were in no hurry.. Must have been after noon before they got ready to go visit with the mountain… I purposefully did not tell them what I had gotten the day before wanting to have their personal experience. We all have different gifts, and I did not want to guide their gifts into any preconceived direction.
On Sunday, we smudged and then entered the sacred circle, smudging it also. Then I told the mountain, "Onanahtsegowa, Nyawehnsie nagahee, Ukay oh nohsah Alana, Brittany, and Christine." They were my special friends that have come to help also, would she please speak to them of the things she told me the day before. And then silence while they had time to do their thing.
As everyone went into their space, I reached down and placed my hands on the crystal platform. Very very faintly, I could feel a pulsating, like a heart beat. AS we sat there, I felt a very warm embracing energy, filled with welcome, and love.
When the women had finished they began to share. They got exactly what I had been shown and given the day before. In addition Christine got that she was a teaching mountain. What she would teach would prepare for the next mountain. The next mountain was north. She saw the Crystal grid deep in the earth. She saw it was to connect the "next" mountain. Alana also saw the crystal grid and the need to be connected. But I was amazed that Christine had gotten exactly what I had. I could not help but think, man this is real. How else could all of us have gotten the same thing? Later, I showed her my purple stone. She said, "oh that's a heart stone". She gave her daughter a pink rock and asked her what she got. She said oh that is a part of the heart.
After the healing, she will become known as a Mountain of Peace and Love. She said that visitors may take the pieces of her laying around to take home. In this way, she can spread the peace, love energy into every home that pieces of her are taken. She saw this as being important contribution and it made her feel some better. She saw it as a way to make something positive for the destruction she has suffered.
There will be a water ceremony. This water ceremony will have water standing throughout the ceremony and then shared with participants to take and pour into streams, brooks, creeks, rivers, and lakes. The Whirling Rainbow and all healing energy will then be directly infused into the Mother's life streams as well as her bones.
In 1993 I got messages that the Native Americans have the ceremonies and the covenants with the Earth to be able to heal her, so when I met Blue Thunder I knew of what he spoke as truth. And in 2000, I got the message that the earth could heal instantly > a message I later read in the book, Teachings of the Long House by Last Condoled Hereditary Chief of the Cayuga at Six Nations, Jake Thomas also one of my mentors . We are in the process of setting up the grid work to heal the entire earth. I am asking each of you to be a part of this work.