Dennis Smartt, speaks at Papoose Meadows in remembrance of massacre of Paiute People, Orivlle and Dean Barlese, who is organizing ceremonies to change the Ruby Pipeline route also participated.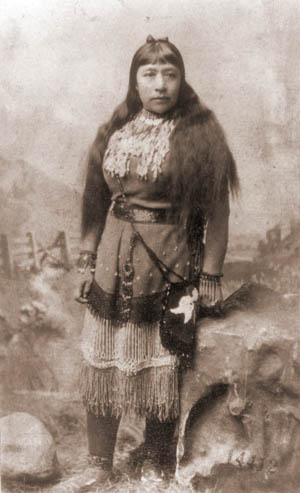 Excerpt by Sarah Winnemucca from her book "Life Among The Piutes"
1842-1891
http://www.yosemite.ca.us/library/life_among_the_piutes/ by Sarah Winnemucca
In 1865 we had another trouble with our white brothers. It was early in the spring, and we were then living at Dayton, Nevada, when a company of soldiers came through the place and stopped and spoke to some of my people, and said, "You have been stealing cattle from the white people at Harney Lake." They said also that they would kill everything that came in their way, men, women, and children. The captainís name was Wells. The place where they were going to is about three hundred miles away.
The days after they left were very sad hours, indeed. Oh, dear readers, these soldiers had gone only sixty miles away to Muddy Lake, where my people were then living and fishing, and doing nothing to any one. The soldiers rode up to their encampment and fired into it, and killed almost all the people that were there. Oh, it is a fearful thing to tell, but it must be told. Yes, it must be told by me. It was all old men, women and children that were killed; for my father had all the young men with him, at the sink of Carson on a hunting excursion, or they would have been killed too. After the soldiers had killed all but some little children and babies still tied up in their baskets, the soldiers took them also, and set the camp on fire and threw them into the flames to see them burn alive. I had one baby brother killed there. My sister jumped on fatherís best horse and ran away. As she ran, the soldiers ran after her; but, thanks be to the Good Father in the Spirit-land, my dear sister got away. This almost killed my poor papa. Yet my people kept peaceful.
That same summer another of my men was killed on the reservation. His name was Truckee John. He was an uncle of mine, and was killed by a man named Flamens, who claimed to have had a brother killed in the war of 1860, but of course that had nothing to do with my uncle. About two weeks after this, two white men were killed over at Walker Lake by some of my people, and of course soldiers were sent for from California, and a great many companies came. They went after my people all over Nevada.
Reports were made everywhere throughout the whole country by the white settlers, that the red devils were killing their cattle, and by this lying of the white settlers the trail began which is marked by the blood of my people from hill to hill and from valley to valley. The soldiers followed after my people in this way for one year, and the Queenís River Paiutes were brought into Fort Churchill, Nevada, and in that campaign poor General McDermit was killed. These reports were only made by those white settlers so that they could sell their grain, which they could not get rid of in any other way. The only way the cattle-men and farmers get to make money is to start an Indian war, so that the troops may come and buy their beef, cattle, horses, and grain. The settlers get fat by it.
During this time my poor mother and sister died, and we were left all alone, with only father. The two Indians were taken who had killed the two white men over at Walker Lake. It was said they killed those two white men because the soldiers had killed their fathers at Muddy Lake, but they had no right to say so. They had no proof.
Another excerpt by Sarah Winnemucca:
Two little girls about twelve years old went out in the woods to dig roots, and did not come back, and so their parents went in search of them, and not finding them, all my people who were there came to their help, and very thoroughly searched, and found trails which led up to the house of two traders named Williams, on Carson River, near by the Indian camp. But these men said they had not seen the children, and told my people to come into the house and search it; and this they did, as they thought, thoroughly.
After a few days they sorrowfully gave up all search, and their relations had nearly given them up for dead, when one morning an Indian rode up to the cabin of the Williamses. In those days the settlers did not hesitate to sell us guns and ammunition whenever we could buy, so these brothers proposed to buy the Indianís horse as soon as he rode up. They offered him a gun, five cans of powder, five boxes of caps, five bars of lead, and after some talk the trade was made. The men took the horse, put him in the stable and closed the door, then went into the house to give him the gun, etc. They gave him the gun, powder, and caps, but would not give him the lead, and because he would not take a part, he gave back what he had taken from them, and went out to the barn to take his horse. Then they set their dog upon him. When bitten by the dog he began hollering, and to his surprise he heard childrenís voices answer him, and he knew at once it was the lost children.
He made for his camp as fast as he could, and told what had happened, and what he had heard. Brother Natchez and others went straight to the cabin of the Williams brothers. The father demanded the children. They denied having them, and after talking quite awhile denied it again, when all at once the brother of the children knocked one of the Williamses down with his gun, and raised his gun to strike the other, but before he could do so, one of the Williams brothers stooped down and raised a trap-door, on which he had been standing.
This was a surprise to my people, who had never seen anything of the kind. The father first peeped down, but could see nothing; then he went down and found his children lying on a little bed with their mouths tied up with rags. He tore the rags away and brought them up. When my people saw their condition, they at once killed both brothers and set fire to the house.
Three days after the news was spread as usual. "The bloodthirsty savages had murdered two innocent, hard-working, industrious, kind-hearted settlers;" and word was sent to California for some army soldiers to demand the murderers of the Williamses. As no army soldiers were there just then, Major Ormsbey collected one hundred and sixty volunteers. and came up, and without asking or listening to any explanation demanded the men. But my people would not give them up, and when the volunteers fired on my people, they flew to arms to defend the father and brother, as any human beings would do in such a case, and ought to do.
And so the war began. It lasted about three months, and after a few precious ones of my people, and at least a hundred white men had been killed (amongst them our dear friend, Major Ormsbey, who had been so hasty), a peace was made. My brother had tried to save Major Ormsbeyís life. He met him in the fight, and as he was ahead of the other Indians, Major Ormsbey threw down his arms, and implored him not to kill him. There was not a moment to be lost. My brother said,ó "Fall down and I will shoot over your head." But Major Ormsbey kept pleading for his life, and another Indian killed him.