Clearing Ceremony September 5th

Dawn Marie, Kris, and Marcine arrived at night , Saturday the 4th, so we set up our camp and went to bed.
Dawn, Kris and I went up to northern Idaho this last weekend to do clearing ceremonies on the two ceremonial spots in order to prepare them for the up coming Big One.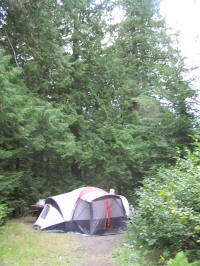 When we left Lewiston, we went up to Clarkia to Hobo pass and Botanical Garden. We arrived in the dark and set up our tent. The next day, Sunday the 5th, We did ceremony in the cedar grove. It is a like a fairyland with Lady Ferns and huge Cedar Matriarchs. WE were joined by many inter-dimensionals and the Guardians of the place which were Lemurians. Lady Laeela seemed to be the main Lemurian. I had seen her before, but now as we began ceremony, she was joined by others until we were circled by them. We were told that this area was sacred to Lemurians, and they have been protecting it from man kind's destructive greed. Also that when the shift is finished, Lemurian temples will once again become visible as the dimensions merge. As Dawn prepared her part, and I set the sacred stone people into place, there was probably like 5 wolf howls. I was the only one who heard them. But unseen ravens croaked their welcome as well. Even in the majic of the place, sadness several times over whelmed us.
This was all cedar trees. Tall frothy limbed cedar trees. We left the stone people here too. .It was very cold. We had to wear our jackets the whole time we were there, and we got a dose of hail.
Next year is now 2011. Our time is getting shorter. There are suppose to be 5 more shifts this year yet, and some right here in the states. Our people are getting less and less time to prepare for all of this. Our ceremony last year, (at least I would like to think it is so) dropped the fires by 75%. And we really didnít get much of a ceremony done, as 84% was done remotely. Just think what could be achieved if we could do this the way we were instructed.